Here are some things I'd love for this weekend ... a.k.a. my
Weekend Wants
.
1) To sleep ... I've been staring at our new mattress ever since the delivery guys dropped it off at 3 p.m., but I figured that was a little too early to go to sleep in it :)
2) To par-tay ... I am going to a party tomorrow, and I am a little bummed that the weather is going to be crappy and cold. I was looking forward to wearing a very spring-y outfit, but now I might need to rethink it.
It's not going to get out of the 40s, so maybe I'll wear a 3/4 length sleeve dress like this --
3) To do laundry ... this is totally not exciting, but I am almost out of clean undies.
4) To watch Mad Men ... last weekend's season 5 premiere was so awesome that I almost forgot there's a whole season still left to enjoy.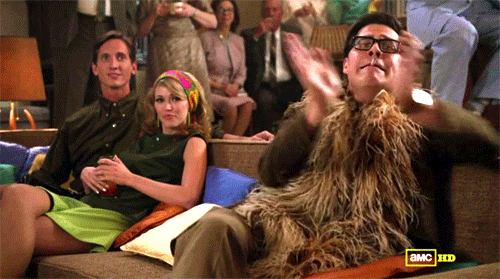 5) To pin ... I have been so busy this week that I've hardly been on Pinterest. Going through withdrawals!